Franconia Township Parks & Recreation Board
The Franconia Township Parks and Recreation Board is a very active group in the Township. The committee is made up of 7 volunteer residents who are appointed by the Board of Supervisors. They serve 5-year terms. The Board plans and oversees the development and improvement of Franconia Township Open Space into active and passive recreation for use of its residents and visitors. The members help organize different events within the community parks; an annual summer concert is always a resident favorite. They are also responsible for reviewing field use applications by the different organized athletic teams, as well as any other use requests that are submitted to the Township. The Board meets on the 2nd Tuesday of every month at 6:00 p.m. Winter meetings are held at the Franconia Township Building located at 671 Allentown Road. Summer meetings are held at a pavilion in one of the Franconia Township Community Parks. All meetings are open to the public.
2021 Board Members:
Nancy Shelly - Chairperson
Elaine Feiss - Secretary
Lisa Musselman - Member
Kevin Nice - Member
Steve Hunsberger - Member
Chris Stanford - Member
Maureen Yothers - Member
Township Staff Representative:  Deb Boyles
Current News
2019 June Concert in the Park - The Mighty Manatees
On Wednesday, June 26, 2019, Franconia Township Parks and Recreation Board sponsored its first of a two-concert series it is sponsoring this Summer.  Although the rain caused the event to be canceled the week before, June 26th ended up being a beautiful evening with over 100 in attendance to listen to the band, The Mighty Manatees.  The attendees enjoyed free Philly Pretzel Factory Soft Pretzels and bottled water as they listened to the concert, while the children (and some adults!) had fun getting some face and arm paintings done by Jennifer Schuster of Sunny Face Painting.
2019 Summer Concert - Barefoot Bobby and the Breakers
Our second summer concert this year was held on Wednesday, June 17, 2019 with the return of Barefoot Bobby and the Breakers. The band was a real crowd pleaser last year so we brought them back this year for a repeat performance.  Unfortunately, that performance got cut short due to rain that rolled in, but those who came seemed to enjoy themselves and the free water ice provided.
2019 Pickleball Clinic
On May 18, 2019, Franconia Township sponsored a Pickleball Clinic for residents that was conducted by Barb Matase, USA Pickleball Association Ambassador for Souderton-Quakertown.  It was a beautiful day, and the clinic was attended by 13 residents that all seemed to enjoy their time which included details on the basics of the sport, some simple exercises to learn ball control, a relay and then practice on the courts playing the game in foursomes. 
You can try your hand at pickleball at the tennis/pickleball courts located at Franconia Park.  These courts were dually lined last fall for both sports (white lines for tennis and red lines for pickleball).  If you would like to learn more about the sport, please check out USAPA.org for information.
Franconia Community Park Rain Garden Project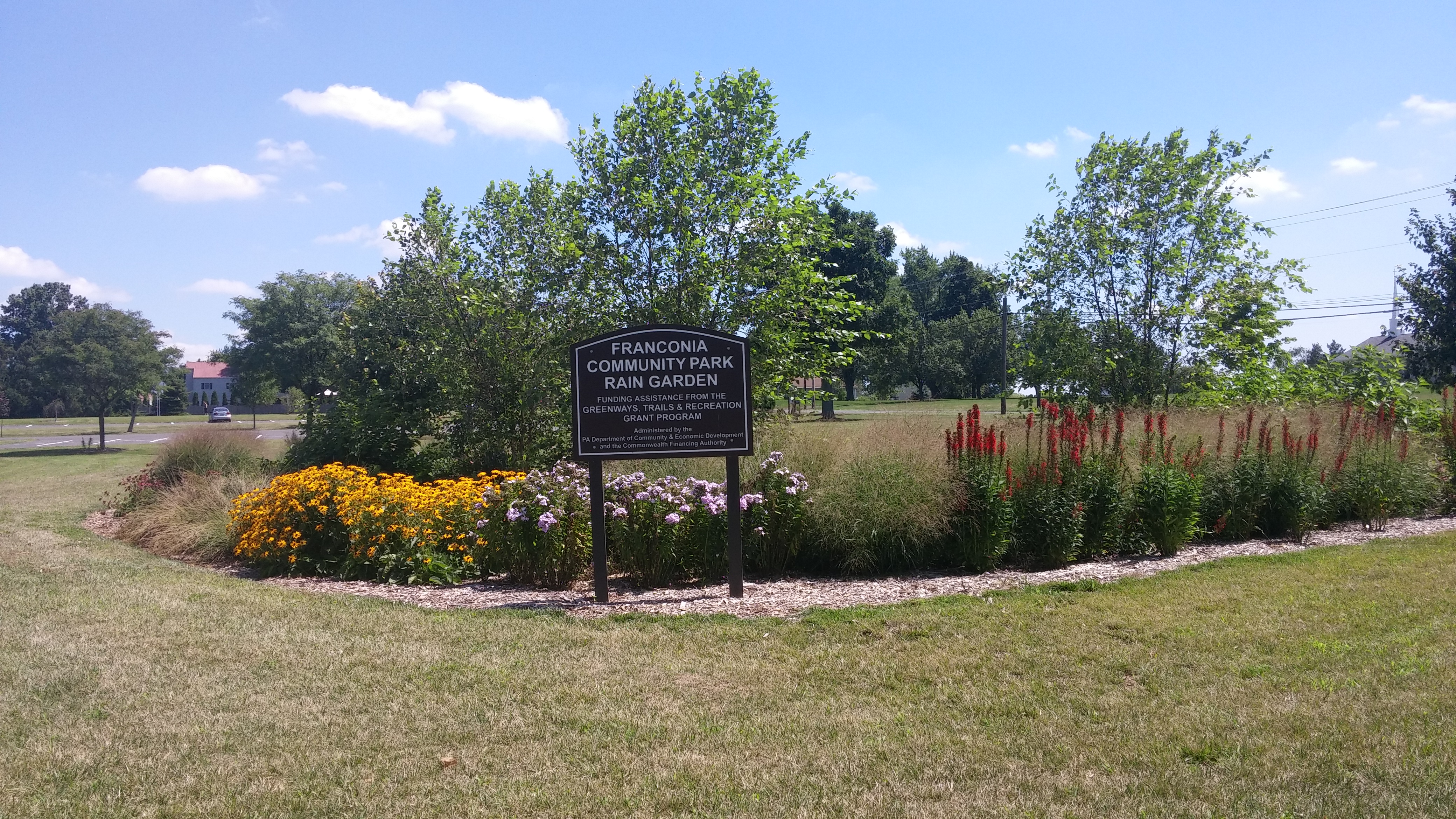 The Franconia Township Public Works Department completed the installation of a rain garden at Franconia Community Park. The rain garden project was selected for grant funding through the Pennsylvania Department of Community and Economic Development. It provides both a mechanism for managing stormwater runoff and providing information to the park patrons about the benefits of rain gardens. Read more about the project and view additional pictures. The final plantings and signage are in place.
Pavilion Reservations and Field Reservation Applications
The Franconia Township Parks & Recreation Board is now accepting pavilion reservations and field reservation applications. Pavilion reservations must be made in-person during normal business hours which are Monday through Friday from 8:00 a.m.-4:30 p.m.  Payment is cash only.
Parks & Facilities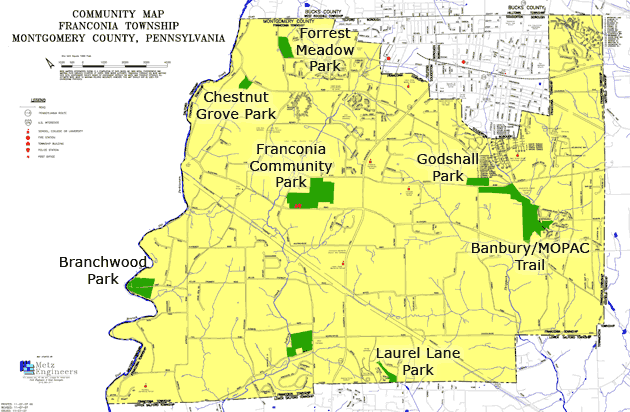 Franconia Township residents enjoy more than 100 acres of dedicated open space, whether by active recreational use, enjoyment of passive parkland, or walking along miles of trails. To see what's coming soon, view our planned park projects.
FRANCONIA COMMUNITY PARK
Nearly 50 acres located next to the Township Administration Building with entrances on both Allentown and Godshall Roads offers:
2 covered pavilions (may be reserved for picnics and parties)
2 baseball fields
2 soccer fields
1 roller hockey rink
1 sand volleyball courts
Basketball courts
Playground equipment
2 miles of walking trails 
Winter ice skating
2 tennis/pickle ball courts (dual use courts)
1 football field
Concession stand
Public restroom
Open from sunrise to dusk
In the Summer of 2019, Eagle Scout Kyle Grant constructed an informational kiosk at Franconia Community Park.  Please stop by the kiosk when visiting the park for up-to-date information and events being sponsored by Franconia Township.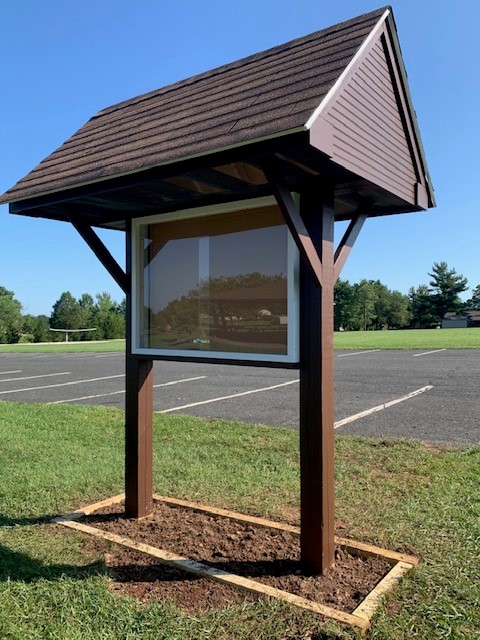 In the Fall of 2019, Eagle Scout Austin McNichols performed clean up, walk repairs and constructed and hung four bat houses at the Quince Drive Trail. Bats houses are a great way to attract bats who eat insects and reduce the mosquito population.
FORREST MEADOW PARK
Forrest Meadow Park is located on Forrest Road and is a 28-acre park that has several features, with more development planned. Progress on this park is available under Township News. The park offers:
1 multi-use field
½ mile walking trail
Covered pavilion with picnic tables
Playground
A tot-lot geared to children ages 2-5
A play set geared to children ages 5-12
ENOS. B. GODSHALL PARK
Located at the corner of Godshall and Lower Roads.  This park remains in a natural wooded state. The park has a walking trail situated on 11 acres with a small pond and stream. It's also available for public use from sunrise to sunset.
An Eagle Scout Project completed by Patrick van der Kleut in the Spring of 2018 now offers a resting spot along the walking trail.
ORIENTEERING COURSE
This was also an Eagle Project done by Troup 401. The courses are located on Godshall and Lower Roads at Godshall Park in Franconia Township. This project features THREE courses to run. Download/print the maps, score cards, and answer sheets by clicking on them below:
BRANCHWOOD PARK
Has approximately 25 acres located on Camp Road along the East Branch of the Perkiomen Creek. It offers:
Frisbee golf course
Playground
A covered pavilion
Picnic tables and benches along the creek
1 softball field
Lighted tennis and basketball courts, available until 10:00 p.m.
Opens at sunrise
Disc Golf Course

BANBURY/MOPAC TRAIL
Developed through an Open Space Agreement with the Banbury Crossing residential development and Moyer Packing Company, this trail offers 2 miles for walking and jogging located directly across from Enos B. Godshall Park and continues through the Banbury Crossing Open Space.
CHESTNUT GROVE PARK
Located on Cowpath Road.  This park will be used as a passive park for walking and picnics. The Souderton Boy Scouts of America Troop 401 has been instrumental in assisting the Township with its development. Working toward credits for their Eagle Scout awards, the scouts have built:
A walking trail
A butterfly garden
Birdhouses
Gazebo
LAUREL LANE PARK
Situated off Maple Avenue, adjacent to Spruce and Laurel Lanes, this park is comprised of 7 acres and offers a gazebo and trail that connects with Lower Salford's park and trail system.
The Indian Valley Regional Planning Commission compiled a regional recreational amenities map listing various recreational outlets throughout the six municipalities that make up the region.