Sewer Locations & Planning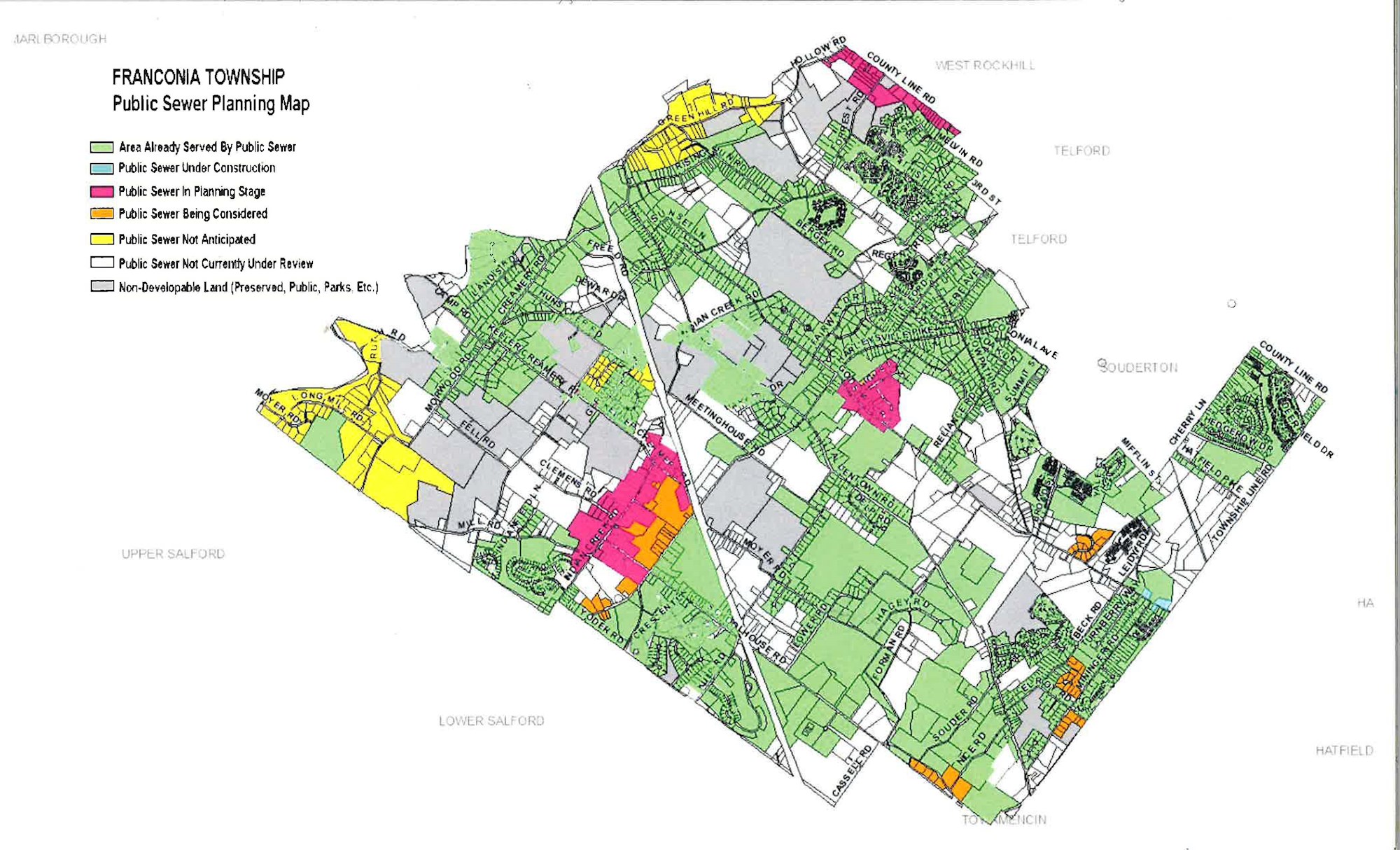 There are a number of factors that could shift the timing of projects, causing them to be completed faster or slower than originally anticipated. Some of these factors are: public health concerns, opportunities to partner with others, the availability of grant or low-interest money, and the general construction climate. Please use this map with the understanding that the status of a given project is correct at the time of the last update.
Morwood Area
Status: This project is underway and includes Springshire, Crestwood, Alycia, Landis, Rittenhouse, and parts of Morwood, Creamery, Hunsicker, and Keller Creamery (see the Morwood Project map).  The Township 537 Plan for this area was approved by PADEP directing the Authority to install public sewer in this area, as well as Eisenhauer, Gerhart, and additional portions of Keller Creamery.  The 537 Plan was broken into two Phases.  Phase II was further broken into A & B.  Phase I was put out for bid with construction beginning July 2019.  By September 2019 it became obvious to the Authority board that it made economic sense to include Phase IIa in the current construction.  The Authority requested a grant to assist with Phase IIb which, if received, would bring this cost in line with the current construction.  If we receive the grant we'll move forward with Phase IIb.  If not, we will likely wait to start construction of this area for about 2-3 years.
Last updated March 23, 2020
Leslie Lane
Status: This project is on hold indefinitely.
Last updated March 23, 2020
Cowpath @ Mininger
Status: There are a few homes in need of public sewer here.  This would require a minor sewer extension.  In anticipation of road work for the proposed Turnpike/Route 309 connector, the Authority is moving forward with getting this installed as soon as possible.                                    Last updated March 23, 2023
Kulp & Schoolhouse Roads
Status: Public sewer is available to some homes on Kulp Road.  Homes on Schoolhouse between Route 113 and Kulp Road are very much in need of public sewer.  We hope to have this project underway in 2020.
Last updated March 23, 2020
Indian Creek & Schoolhouse North of 113
Status: The Township will be modifying its 537 Plan for this area (this plan, once approved, becomes the basis for public sewer extension).
Last updated March 23, 2020
High & Homestead Area
Status: The Authority received a number of requests from residents in this area to provide public sewer. In a survey, the majority of respondents wanted public sewer. The Township will begin the 537-planning process to determine the need for public sewer in this area. .
Last updated March 23, 2020