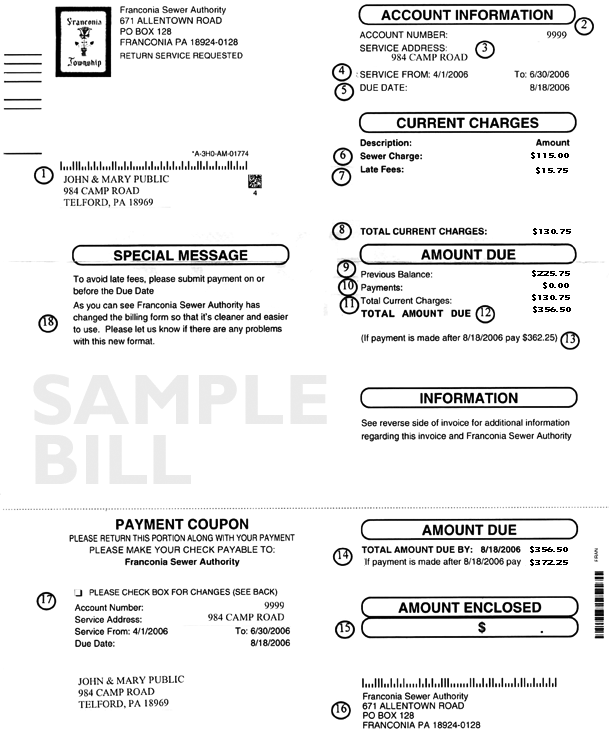 The following numbers apply to the tags on the sample sewer bill above:
Billing Address – this may or may not be the same as the service address. Note that sewer invoices go to the property owner, not a renter.
Account Number – a unique number assigned to a property and its owner(s).
Service Address – the address where sewer service is provided.
Service Date – the period for which service is being billed. If ownership changes within a billing period, actual usage by the incoming and outgoing parties will be calculated and applied to each party. For example: a property is sold; settlement is made on April 30. The seller is responsible (and will be invoiced, usually at settlement) for 30 days of service, the buyer will be invoiced for 61 days of service in the regular billing cycle.
Due Date – the date payment in full is expected.
Sewer Charge – the amount due for service provided in the current billing cycle. This will be prorated if there is a change in ownership (see #4, above).
Late Fees and other Adjustments – any adjustments to current charges will appear here. This is where late fees appear for unpaid amounts on the previous billing cycle.
Total Current Charges – this is the total amount accrued for sewer service and other adjustments during this billing cycle.
Previous Balance – this is the amount owed from the previous invoice
Payments – money received toward your account.
Total Current Charges – same as #8, above
Total Amount Due – Previous Balance plus Current Charges minus Payments. This is the amount due and payable by the Due Date
Payment After Due Date – if payment is made after the Due Date, a service charge is added and the total amount now due is stated here.
Total Amount Due – either #12 or #13 based on timely payment
Amount Enclosed - Please fill in the amount enclosed with the Payment Stub
Address to send or drop-off payment
Account Information – please review this information and if corrections are needed, check the box and make corrections on the back of the Payment Coupon.
Special Message – this is an area where Franconia Sewer Authority can provide updated information to its customers.